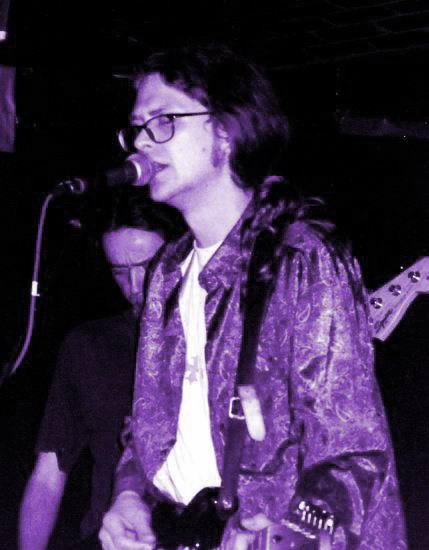 SOUTHALL RIOT formed when Philm and Stuart merged in early 1998, drawn together by a mutual Syd Barrett fixation. Their debut EP 'Into The Chicago Abyss' came out on their own Victory Garden record label on 3rd September 1998, and was described by James Oldham in the NME as "magnificent . GBV meets FSA".
Earworm Records called around one day and the next thing the Riot boys knew they had split singles, albums and compilation appearances coming out of, well, their ears.
By the time they played their first gig in October 1999 (opening for The Minders, Ma Cherie For Painting and Tank) they were the proud owners of another two VG EPs - 'It's Science vs. The World !' and 'Quality Goods' as well as a whole hatful of great press. The end of 1999 saw the release of the mini concept album 'Sunhead', a collaboration with arch-noiseniks Ansuz Lúnasa recorded in celebration of that year's solar eclipse.
A chaotically triumphant gig at the Notting Hill Arts Club, headlining with Tompaulin and Kicker (you really should see the video !) preceded their most accessible and acclaimed 7" yet - the 'Amplifier Morning' EP. The band have had radio play on Radio 1 and XFM and, somewhat bafflingly, frequent spins on numerous French and Swedish stations. Voilà, Bjorn !
A natural reticence to playing live (3 dates in 3 years) was overcome by accepting the support slot for the Acid Mothers Temple May 2001 UK/Ireland tour (8 dates in 10 days). In the sold-out, psyched-out environs of such heaven holes as Cork's Lobby Bar and Brighton's Freebutt, a more spacious and epic Riot sound started to emerge. The roll-over riff repetition of 'Rugby Players Make Good Businessmen' would segue itself effortlessly into 'In The Valley Of The Broken Down', a fifteen minute coruscating slice of intense science future bloodletting. For instance. From 12 songs in 22 minutes to 3 songs in half-a-bloody-hour !
Offers started pouring in, from Architectural Institutes to Alan McGee's Poptones. Expect future releases on Earworm, Enraptured, Jonson Family and their very own Victory Garden Records.